News Flash!
Bookshop Click & Collect service is still available.
Monday to Friday 11am till 4pm. Saturday 11am till 5pm
Telephone and email orders only
If you wish to use this service, please note that orders can be telephoned through to 020 8998 2933 or emailed to
contact@perivalechristianbookshop.co.uk
Please provide contact details so that we can let you know when you order is available.
Payment will be requested in advance of collection and you will not be able to enter the shop.
Please do not visit the shop unless you have been told that your order is available.
Perivale Christian Bookshop 90 Bilton Road, Perivale, Greenford. UB6 7BN
Tel: 020 8998 2933
email contact@perivalechristianbookshop.co.uk
*************************************************************
Rev Colin E Taylor is a retired Pastor, having served the Perivale Mission Church in Middlesex for thirty years up to 2007. Devotional Thoughts on Who I Am in Christ. What does Scripture say about me? Each page has a different description of who I am as a believer in Jesus Christ, with Scripture reference and devotional thoughts. This book is written for the "ordinary person in the pew"
Bygone Perivale: The tale of a Middlesex hamlet
The book is packed with a wealth of fascinating new accounts of Perivale's places, its characters, its pre-war countryside, its industries, schools, farms, buildings, streets, its hardship through war, along with numerous tales never told before, some grisly, some uplifting, and some humorous. Many of the site's members have been a great help with their contributions.At almost 400 pages long, the book will appeal to anyone, young and old, who has local links to the area either through family, ancestors, work, home or school, or indeed to anybody who has a personal interest in this part of West London and the borough of Ealing.Extensively illustrated with photographs, pictures and historical clippings, I truly believe this will be the go-to book for anybody who wishes to know about life in old Perivale, from its rural days, when wheat was grown here for Queen Elizabeth I, and when Londoners would visit the hamlet for a day out in the countryside, right up to the 1930s when its meadows were swamped by new factories and housing estates, through the war years when it was threatened by nightly bombing raids and saw many of its children evacuated to the USA, and beyond into the following decades.Perivale was once a delightful, secluded hamlet of just 34 inhabitants in the late 1800s and just 60 folk at the turn of the 20th century, before the massive expansion of the 1930s, when a vibrant local community was born.The industrial park where I work today, just off Horsenden Lane South, was once the site of the famous Sanderson's wallpaper factory, which designed and produced wallpaper for royal residences, including Windsor Castle. Its grounds boasted superb sports fields and facilities. It even had its own theatre society and kept its own pigs.So reserve your copy and read about Perivale's famed countryside described by Betjeman, murders, drownings, drunken shenanigans at the original Ballot Box pub, the love affairs, the German bombing raids, the evacuees, its heroes and villains, its personalities and characters, Christmas dinners in air-raid shelters, the giant boxing trainer Jolly Jumbo, its shops and streets, soapbox races on Horsenden Hill, Perivale Station, prehistoric skulls, its farms and rustic lanes, its new factories and homes, the Hoover Building and all its industries, the schools, the Myllet Arms, Perivale's charming little church by the Brent, Perivale Maternity Hospital, and much, much more!So, sit back and take a trip down memory lane and discover Perivale's distant and not so distant past, from idyllic hamlet to bustling suburb.
Our new shop front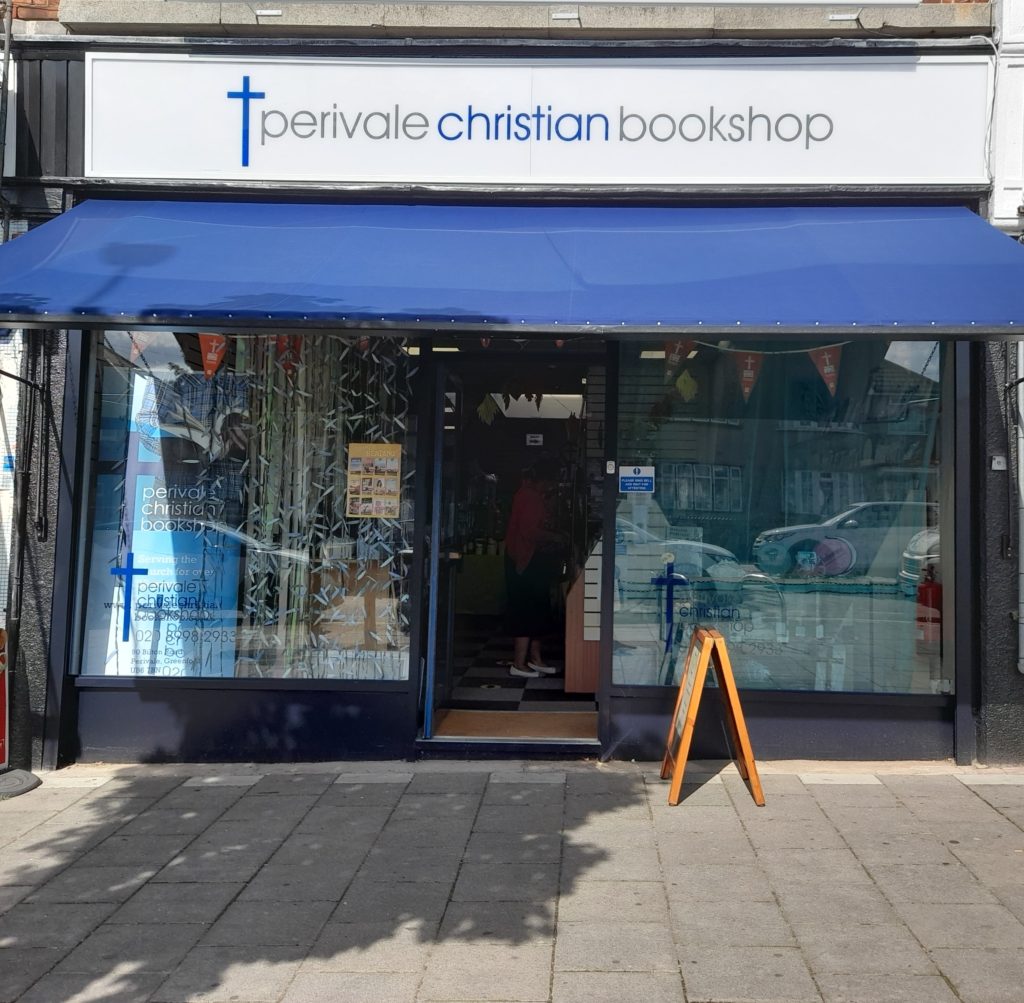 Christmas Advent Calendars and Foodbank Christmas Cards – Available
2022 Calendars and Diaries – Available