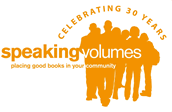 Introducing a great way to share the good news and support Perivale Christian Bookshop at the same time.
 Have you ever walked into your local library and picked out a good, relevant Christian book?
Has your child ever brought a Bible storybook home to read from the school library?
What about your church? Do you have a book you can lend a visitor to inspire them with faith or help them through a difficult time?
Does your toddler group have some attractive board Bible storybooks to share with the tots?
The answer to all these questions could be a resounding 'yes' with the help of Speaking Volumes.
Speaking Volumes is a scheme run by a charitable trust that match-funds your purchase of Christian books. The only conditions are that the books are for lending to a wide readership and that they are chosen from the Speaking Volumes' range of recommended titles.
In other words, they are for giving to libraries in local communities so that everyone can benefit from them – not just Christians! That means public libraries, schools, prisons, hospices, care homes, toddler groups, lunch clubs… the list is only limited by your imagination.
Using the scheme is really easy: anyone can take advantage of it, from Churches Together groups to individuals or librarians themselves.
Simply ensure that your chosen library is happy to receive the gift. Agree with them what they'd like from the Speaking Volumes catalogue which you can pick up at our shop or view on the Speaking Volumes website. (DVDs and audio books are also included in the scheme.)
Then, place your order with us and pay just 50% of the retail price (as indicated by Speaking Volumes). You can also add to your order free book protectors, book plates and promotional bookmarks.
When you've collected your order from us, you will just need to complete and attach the book plates and put on the protectors.
Finally, present the books to your chosen library.
Even Amazon can't beat Speaking Volumes' 50% discount – which is great news for you. Plus, Christian bookshops like us, don't lose out as Speaking Volumes refunds the outstanding cost to us.
'I send [my word] out, and it always produces fruit. It will accomplish all I want it to, and it will prosper everywhere I send it.' (Isaiah 55:11) 
Make His word prosper in your community with a gift of Christian books today. You never know whose life it might change.